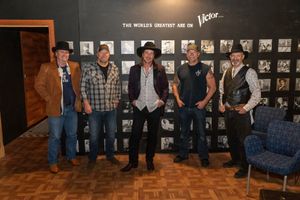 Bio
Jim Mitchell and The Repeat Offenders
Outlaw band of musical gypsies with a killer live show! Whether blazing through guitar and steel guitar solos on ORIGINAL and country/rock songs or bringing it all home on a traditional country ballad these guys can flat git it!
Led by outlaw country singer Jim Mitchell, The Repeat Offenders are one of the top country/rock bands in the Mid-Atlantic Region and have been for years.  Currently based in Pennsylvania and New Jersey, the band can be seen regularly in Virginia, Maryland, Delaware, New Jersey and Pennsylvania.
After working with many country superstars, Jim Mitchell and The Repeat Offenders released a debut record titled HELLRAISIN' SON.  Jim's second record DOWN THE OLD ROAD TO HOME with Jimmy Heffernan is a tribute to 1920's and 30's recording star Jimmie Rodgers.  Jim and the band then released their next record STILL DRINKIN'.  In 2020 Jim signed with DDF JAM Publishing and Record Label.  Jim and the band are currently recording in two partner studios, SonLight Productions and Victor Records; a fourth record REPEAT OFFENDER is soon to be released in 2023.   
The Repeat Offenders are...Jim Mitchell on vocals and rhythm guitar, Jack Stanton on pedal steel guitar, Ray Roller on lead guitar, Troy McAllister on bass guitar and Steve Campbell on drums.